I was debating whether to
create a new blogger, wordpress,tumblr account
to post about my two-cents about the anime shows that I have been watching or choose of the many online account I have. Then I realized that doing that would mean extra work for me. I don't even have the time nor strength to maintain all of my accounts. So I didn't.
And I just thought, "why not use my DW account instead?". So here I am
.
Today I shall be talking about the Playstation Portable game-turned-manga-turned-anime
Uta no☆Prince-sama♪ Maji Love 1000%
also-known-as
UtaPri
(
which we will call by this name from now on
).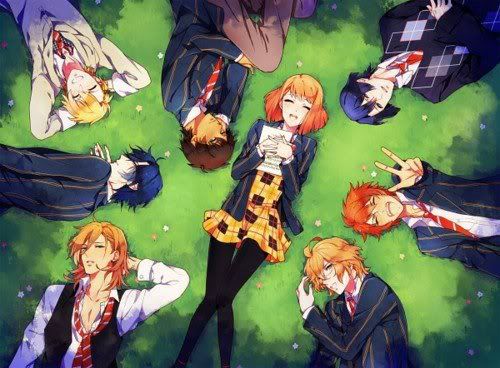 So what is UtaPri all about
?
With dreams of becoming a composer and someday writing a song for her favorite idol, Haruka enters the Saotome Academy, a prestigious performing arts school. If successful there, she'll be able to join the Shining Agency after graduation. However, it won't be so easy when Haruka is already surrounded by potential idols and composers. On top of that, her homeroom teacher is a current idol, the headmaster was a record-breaking singer, and the academy itself is a chaotic place where anything can happen. Which prince of song will be paired up with Haruka?! Uta no Prince Sama is an exciting, coming-of-age romantic comedy that will be like sweet music to your eyes and ears!
Source: NicoNico via
MyAnimeList
Basic information about the anime that you may be interested about is listed below:
Episodes: 13
Status: Finished Airing
Aired: Jul 3, 2011 to Sep 24, 2011
Producers: A-1 Pictures
Genres: Comedy, Romance, School, Shoujo, Harem
Duration: 25 min. per episode
Rating: PG-13 - Teens 13 or older